Magnetic Equipment & Metal Foil
With our magnetic decorative panels, we offer a fast and sustainable solution to quickly change decorations. Whether in the store window area, in trade fair and store fitting or in the furniture, decor and display area, the use of the SIBU DESIGN MAGNETIC program is almost unlimited.
Dirt-free
Remodel decorative surfaces in the blink of an eye, without creating a mess.
Reusable
MAGNETIC decorative panels can be used repeatedly depending on the occasion, thus protecting the environment and your budget.
Savings
Minimal assembly effort during design change. This saves time and therefore money.
Decorative panels with MAGNETIC equipment are perfect when you are redecorating frequently, substrates must be protected, dirt prevention is a must and when only a small budget for decoration is available.
Product structure of magnetic decorative panels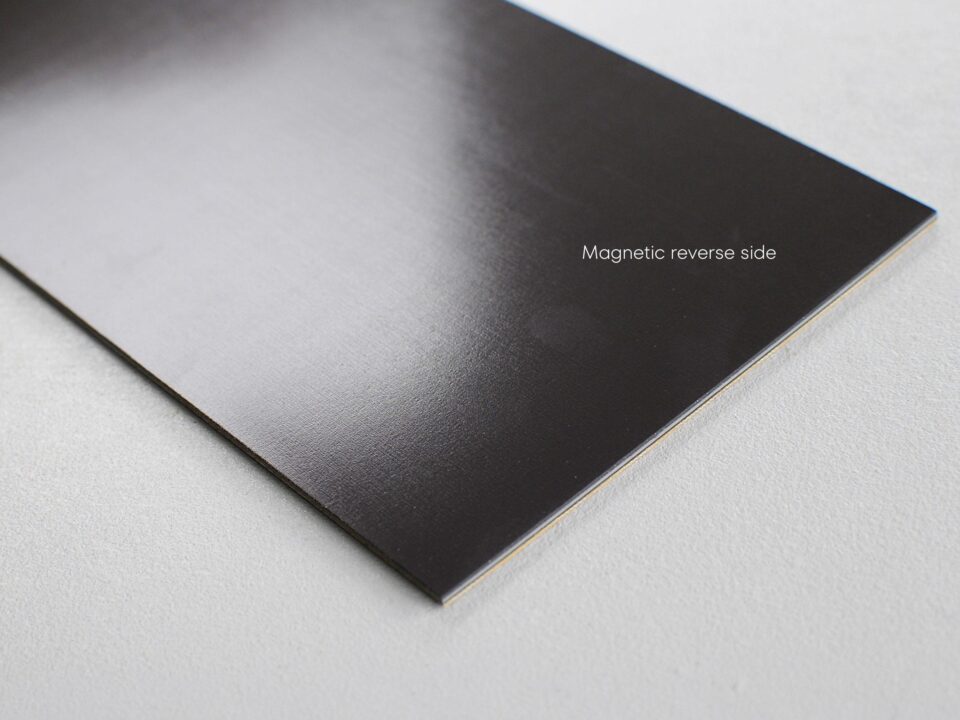 Decorative plate: from 0.80 mm to approx. 3.25 mm depending on product
adhesive: 0.13 mm
Magnetic foil: 0.50 mm
Substrate requirement
SIBU DESIGN MAGNETIC adheres to all suitable metallic substrates. Metal wall paints are also suitable.
Temperature resistance
We have tested and approved the magnetic decorative panels at temperatures up to 50 degrees Celsius.
Fire protection class
The magnetic equipment is classified in fire protection class B2 (DIN 4102).
Magnetic holding force
The magnetic holding force is 29 g/ cm² on smooth surfaces.
Free from plasticizers
SIBU DESIGN MAGNETIC products are 100% free of phthalates/plasticizers – classified as harmful according to Directive 2005/84/EC.
Magnetic property
The mixture of a thermoplastic binder and strontium ferrite powder guarantees the desired magnetic properties.
Blank cuts
The cut must always be made from the surface/decor side. Use a wallpaper knife for decor panel thicknesses up to 2.0 mm or use a saw.
Availability
Almost all SIBU DESIGN plates are available with a magnetic back from a quantity of 3 pieces. The few exceptions you can find in the technical table of each product.
The suitable substrate
The SIBU DESIGN magnetic foils adhere to all suitable metallic substrates and to magnetic paints. If no suitable metallic surface is available, the self-adhesive SIBU DESIGN metal foil or magnetic paint can be used. If the effort of wielding the paint brush is too great, we recommend our strongly adhesive metal foil, which can be applied flexibly and very easily to load-bearing substrates.
Magnetic paint can also be applied to the wall relatively easily, but with more effort. Please note that depending on the metal content of the paint, you need to apply several layers to achieve sufficient adhesive strength. There is also the option of applying a single-color top coat over the magnetic paint, so the walls can also be kept in plain white and combined with one of our decorative panels as an eye-catcher.
Self-adhesive SIBU DESIGN metal foil as an alternative to real metal and magnetic paint
SIBU DESIGN Metal Foil
is a strongly self-adhesive foil, which can be applied to various surfaces with little effort. Metal foil can be ordered in sheets (2.6 x 1 m) or rolls (14 or 29 linear meters), so the right quantity is available for everyone. Processing: easily done with scissors, knife, cutting machine or die-cutter.
How it works:
Peel off the masking film from the strongly adhesive metal foil and stick it onto the cleaned, dust-free and load-bearing substrate.
Attach SIBU DESIGN decorative panels with MAGNETIC – done!
Material:
Complies with EU directives and TSCA (Toxic Substances Control Act).
Is classified as non-toxic
It is environmentally neutral and REACH and RoHS compliant
Weight per m²: approx. 1.7 kg
I am here for you:
If you have specific questions regarding our products, we look forward to hearing from you by phone or email.
We will forward them to our product specialists.
SIBU DESIGN-Team
Other, interesting articles: